Friday, May 20th, 2011:
Since she had been told to do so, my mom was there each day to sing and to talk to me as if I was present, because, on some level, I was. She put a ball in my hand and instructed me to squeeze, explaining what I would need to do to get better… And I squeezed. I was becoming more alert each day.
Late after the sun sunk, Jami approached the Roosevelt exit off of the Brooklyn Queens Expressway and called to tell her that she was almost there to pick her up, but because it was after visiting hours, she would probably be unable to come up to the room. "Please come in." she said, "I think you being by him makes a huge difference." Free from a tube in my throat, my head bobbled from side to side as she spoke.
Jami continued onto Roosevelt avenue and onto a side street near Elmhurst Hospital, where she parked. She got out of the car and called my mother again. "Hi Kris. Ok… I'm outside and walking over there right now." Like the creation of Victor Frankenstein, my right arm hyperextended as I tucked my chin.
"Hi, Jami… So which entrance are you heading toward?" she asked as her gaze followed the squirming motions that I had been making for days. But this time, my head jerked straight back in the inclined bed where I lay… there was a silent pause… and then my eyelids popped opened! Kris gasped audibly.
"Is everything ok?" Jami asked.
"Oh my god, Jami!" She whispered in suppressed excitement as butterflies fluttered in her stomach. "Both of his eyes just opened!" a deep gasp now came from Jami's end of the phone followed by a pause while each of them digested this revelation. "I'll run down and let…"
"Don't you dare!" Jami interjected before she finished her sentence, "you stay right there… I'll find a way in." She jogged in heels to the side exit door where she had left the hospital several times before and she waited nervously by it, tapping her toe until someone walked out, leaving just enough time for her to intercept the doorway. She quickly maneuvered up the elevator and through the halls until she came to Cavin's room.
My eyes widened further as Jami entered. "Oh my god!" She said reaching for the iPod shuffle and speaker that my friends had loaded up with some of my music. After she skipped through a few random selections from the shuffle, she laid the speaker next to my pillow. A steady stomp was joined by the clicking of drumsticks to intro the symphonic slew of indistinguishably harmonious instruments and the first verse of a song by Edward Sharpe and The a Magnetic Zeros began: "Ooooo, I've been sleeping for 40 days and I know I'm sleeping cause' this dream's too amazing."
My mom's expectations of what I would be like when first waking were low. Every brain injury is different, so no one could say what my brain would be equipped with when coming to full consciousness. I exhibited many of the same characteristics as an infant… I was in an overstimulated state. I was wide eyed with dilated pupils. And I had a playful and explorative disposition. Unlike an infant, however, I demonstrated some sort of memory.
Jami grabbed my left hand that was seemingly glued in a bent position on my chest, and I coughed violently. With my good hand, I rubbed her waist, inching my hand to her butt. And I squeezed. I was becoming more alert each day. "Cavin!" She blushed as a confidence built in her. At that moment, she knew that I was going to be OK.
The nurse entered the room wearing a rewarding smile. "Oh my!!!" she sang. This was the all too rare manifestation of hope that makes the work of all healthcare professionals so meaningful. "He woke up!!" She cheered as she and my mother embraced. The nurse came by my side to check my vitals and Jami and my mom locked gazes with eyes that simultaneously encompassed incredulity and relief.
"Hi there, Mr. Balaster." the nurse said playfully. After unstrapping a blood pressure cuff from my arm, the nurse made a few scribbles on a clipboard, and made her way to the exit. As she neared the door, she looked back wearing a big smile "I'm supposed to tell you guys to leave," she warned. "but I'm going to give y'all another hour or so." Kris put her hands together, thankful for absolutely everything.
My eyes wondrously bounced about, trying to make sense of this new world, "Where's Jami?" Kris coaxed, and my eyes shot over to her, my mouth slightly ajar. Catching a glimpse of the inside of my mouth, she noticed what looked like a white film. "Stick out your tongue," she said curiously, but my attention was focused on Jami. "Cavin…" She rang, "let me see your tongue." An asymmetrical smile rose from one side of my face while my eyes locked in on Jami's pupils, but I did not open my mouth.
"Cavin," Jami said, "make 'wacky face.'" A long moment passed as my expression went blank while I seemingly scanned my damaged memory banks. "Wacky face" was a joke that a friend once made about the expression people make in lieu of a valley girl's "whatever" statement.
My eyes looked up as if I was thinking, and then my mouth opened enough to stick my tongue out to one side. "What about the hands that go with 'wacky face?'" she coaxed. Another brief pause and my right hand rose, while my fingers fluttered. My left hand did not move, but I did not need the use of my left hand in order to demonstrate that I had memory of the past, a sense of humor, personality, and recognition of the people that I was with.
Memory Exploration:
There are many different types of memory. I exhibited implicit memory, the kind of memory that shows an affinity or a distaste of someone or something. Despite my weak and uncomfortable circumstances, I was comfortable around my mom and Jami… So comfortable that I even grabbed Jami's butt. When we see someone it's not like we go through every memory that we have of this person and then make a decision about how to conduct ourselves around them. Like a dog, we instinctively know how to greet them, and a separate kind of memory gives us specifics about them as people.
I also demonstrated episodic memory, or recollections of past events. The memories were somewhere in there, but accessing them required a lot of mental searching. My memories were like a series of puzzle pieces that came together to form a cohesive narrative, but these puzzle pieces had been dismantled and shaken up.
The nurse came back in to announce that the extra hour that she had granted them had expired. As my mother and ex girlfriend carefully kissed me goodnight, my expression pouted and my eyes widened indignantly. I had been sleeping for weeks and I was ready to go all night. As Kris and Jami rode the elevator down to the street level they embraced tightly. Cavin woke up!

As a neurotrauma medical advocate, when I work with clients who have a loved one in a coma, in order to help bring about an outcome where their loved one wakes with recognition, humor, and memory, one powerful therapy we implement as early as possible is high-dose DHA and EPA rich omega-3s.
These two powerful omega-3 fatty acids have been used in patients to successfully bring people out of a coma after being given a very grim prognosis of ever recovering beyond a persistent vegetative state.
These compounds are powerful additions that reduce damage to the blood-brain barrier after stroke and traumatic brain injury. DHA can stimulate the brain's "growth hormone," otherwise known as BDNF.
High doses of DHA and EPA rich omega-3s provide the much needed fatty acids to the brain, while also reducing inflammation and putting the brain in a neuroprotective ketogenic state.
Another powerful therapy to mitigate brain inflammation is High doses of N-acetyl-cysteine (NAC).
It is safe, effective, inexpensive, and powerful! NAC is a form of an important amino acid that is used to produce glutathione, our most potent intrinsic detoxification system. It can successfully cross the blood-brain barrier and raise glutathione levels in the brain, protecting the brain from neuronal damage caused from chemical cascades after a brain trauma.
While these two supplements are my first line of defense after any brain trauma, because they are safe and effective in neuroprotection, detoxification, and brain growth, I recommend them to anyone with a brain.
Again, my brain does not yet recall this episode, so here is the story my mother told in an email on May 20th:
Sent: Fri, May 20, 2011 9:53 am

Subject: Cavin Balaster Day 12

Well, Cavin woke up tonight…I spent the morning with him, then went out to run some errands and get a mani/pedi. Bought him some toys to squeeze with his hand etc. got back to the hospital and gave him a mani/pedi, and started working with him with his toys and explaining to him what he needed to do to get better…… —(she was talking to me while My eyes were closed and I was only partially "there")—

Then it was onto trying to get him conscious and to get him to cough productively and spit it out instead of relying on constant suctioning which is hell on the mouth, throat and lungs…. we made a lot of progress…. he cooperated. —(unconsciously… Sort of)—

Jamie (his girlfriend / former girlfriend / best friend) called to tell me that she would pick me up from the hospital but didn't think she'd come in because it was going to be after visiting hours. I asked her to please come in; to call me when she got there and I'd get her in… when she called me to tell me she was outside, Cavin opened both eyes… I told her what had just happened…..Jamie told me to stay put, she'd find her way in.

I did and she did get in…. by that time he had kept his eyes open and continued to rally. She put a song they love on her ipod by his pillow and he started reacting more and more. He kept coughing and spitting out with great difficulty but with eyes wide open. I'd ask him "where's Jamie" and he'd turn his head and eyes to the side of the bed where she was. He was also rubbing and squeezing her butt (that's our boy)…. and gazing at her. At one point I asked him to stick out his tongue… cause it looked like he had thrush… he couldn't understand or wouldn't comply.

Then Jamie said, "Cavin, make 'wacky face'" which is a joke between them which involves wrinkling his nose and widening his mouth, showing his teeth and sticking out his tongue. It also involves waving one's hands like Miss America… he only did the face movements. She said, "what about the hands that go with wacky face", and he started doing it immediately the same way he always used to. (with right hand only). That's when we knew he had memory and knew who he was with.

He continued to be highly activated and engaged with both of us, besides the coughing … and continued to come more and more "on line".

It was pretty earth shattering for us, because he showed humor, personality, recognition and memory. We know it's just a start, but far more than we expected to see at the outset of his coming to full consciousness.

We stayed til midnight when they finally threw us out, and his eyes got very wide (and did I detect indignant?) as we were leaving.. He was ready to go all night. We had an amazing experience with him and are eternally grateful for such a meaningful rally.

And to think that last night I was signing a consent form for a tracheostomy…. Bless you all for all your healing energy and intention…

I know he rises being lifted up by all your love and prayers.

Will keep you posted

Love you all

Kris
I could not talk when I first woke and was given paper and a pen to communicate. I have a lot of the notes I wrote. I couldn't write legibly at first, but the first thing that you can sort of make out looked like a 5 year old wrote: "Where's my phone?" My mom thought that I was just concerned about who had called or texted me. I think she's wrong. I think that the reason that I wrote that was because I obviously could not write to communicate so perhaps I thought that a keypad would be much better. It is very hard not being able to communicate… Especially when you're in a dependent state.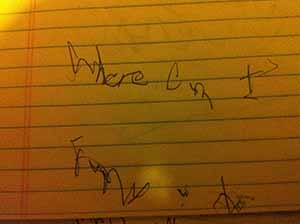 "Where am I?"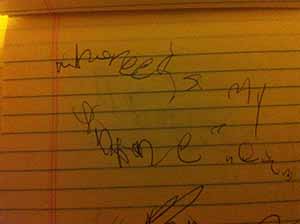 "Where's my phone?"
[vimeo id="81247221″ width="600″ height="350″]