Bittersweet Reunion
I recently received a message from a friend I have known since elementary school, but have not heard from in over a decade. This kind of contact has become somewhat normal for me following my brain injury. And while I was surprised and excited to hear from Claire, especially after so long, I was saddened to hear what she was going through. I learned that on May First of 2014, Claire sustained a serious concussion (minor traumatic brain injury) and was experiencing post-concussion symptoms.
Our stories share some similarities. Like me, she is an artist at heart and was pursuing what she loved after high school: art, poetry, and music. While working as an art teacher, she picked up a bicycle delivery job to help make ends meet. As is the nature of serious injury, Claire's came out of nowhere when another bicyclist crashed into her at full speed while on delivery. Her head hit the ground hard and, in an instant, her life changed dramatically.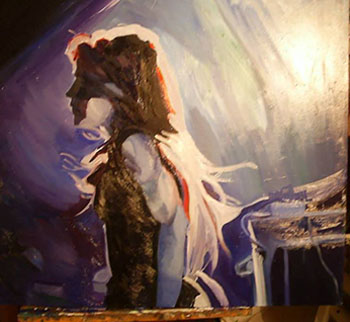 Since her accident months ago, Claire's had to endure extreme challenges and increasing instability. In the very beginning, Claire was restricted to eating and sleeping, with slowed speech and an inability to recall vocabulary (Aphasia)–something especially frustrating for a writer. loss of control can be devastating and terrifying for anyone, and her life was becoming increasingly unstable.
Though she had a network of support in the very beginning, Claire was forced to leave her apartment at a crucial phase in her rehabilitation. As soon as possible, she attempted to return to work and ended up back in the emergency room. Shocked and unable to work, she sought out any help she could find, including vocational rehabilitation.
Parallel Journeys
I often speak about the lesser-known reality that every injury is unique. I raise my arms off the podium and get the audience to say in unison, "If you've seen one brain injury, you've seen ONE brain injury!" What follows is a deeper examination of certain treatments and rehabilitative concepts which are, in fact, universally applicable. Strong social and emotional support, for example, is a universal need we survivors have come to recognize as pivotal to optimal recovery.
This is where Claire's recovery story differs from mine significantly. She's not new to survival; she's had to endure and survive hardship throughout much of her life before her injury. And now, as her small support network and rehabilitative options dwindle, she's reached out to me for information, advice, and community.
I didn't realize how I felt. My emotions were disconnected because of my injury. The first day I was there I was pissed. I was angry about the injury and thought to myself, 'is this what my life is now?'
As a fellow survivor and speaker, I tread carefully when advising others, clearly stating that I'm by no means a medical professional. The conversation is always about what's worked for myself and other survivors I've met and spoken with. In Claire's case, we talked mostly about the importance of nutrition in conjunction with neurological health and healing, including how pivotal healing and caring for my gut was to recovery success. We also talked about supplements, brain injury and thyroid, inflammatory precautions, and stigma associated to brain injury and dealing with the "invisible disability."
As I've written before, the need for, and the importance of, greater brain injury awareness in society is underscored by the fact that very few people take concussion seriously. Concussion really is a minor traumatic brain injury and the reluctance of parents, coaches, teachers, employers, and peers to treat and respect concussion as such is a major concern, often resulting in severely stunted recovery, long-term deficits, even otherwise preventable death. Claire's case serves as an example of this kind of awareness deficit, as many people in her life are reluctant to empathize with the seriousness of her symptoms and her diagnosis.
"I became desperate and distraught. My friends could tell I wasn't in a good place and needed help, so I returned to the hospital" she said in a recent conversation. "There, I was referred to a small community home with others who are in need of support. I didn't realize how I felt. My emotions were disconnected because of my injury. The first day I was there I was pissed. I was angry about the injury and thought  to myself, 'is this what my life is now?' I was able to let go of that anger and begin to enjoy it" she said. "The home was well structured, and was the first time I felt support that allowed me to connect with other people and recover, without having to simply survive. I really came to see the beauty in the others there, all of whom were dealing with different, even severe psychiatric issues. They could actually relate to me and I to them. I'm far better having been through that experience."
Standing Strong
Claire is an incredibly strong person and adamant to get back to stability and return to work. I'm honored to know her and incredibly proud of how well she's dealt with her difficult symptoms and limited options in the face of so much instability. She's a sweet person, friend, and amazingly creative and talented artist. She writes on her GoFundMe page: "I want to get back to making a positive difference in the world with my art and art teaching!" which she frequently updates.
She recently posted on her Facebook page:
"People should not be ignored or marginalized because they suffer from an injury or illness. And yet, it seems that fear of the inevitable makes healthy people distance themselves from others who are already dealing with a difficult and life changing situation. No one gets to avoid the perils of being human and almost everyone will be sick or injured at one point, if only at old age. Physical issues cause intense suffering and teach lessons that only the strongest and bravest can handle or integrate, and yet as mortal beings we will all get a taste of this at some point. Reach out to people who are going through difficulty, instead of pretending it doesn't exist out of fear- it helps them, and you, heal."
Though no one deserves to go through this, I'm honored to welcome her to this community. With her permission, I'll continue to update her progress.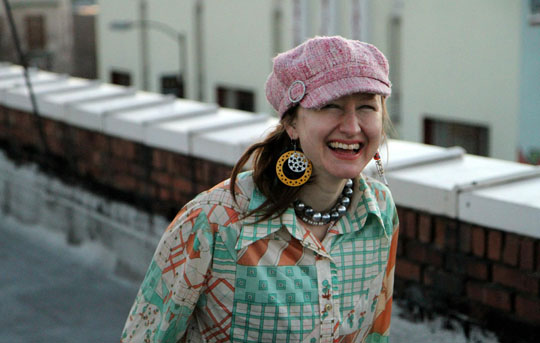 You can learn more about her story, contact and support her directly at her GoFundMe page: https://www.gofundme.com/cubqpg
You can see more of her artwork here: https://fineartamerica.com/profiles/claire-boyce.html

Want to share your story with us? Let us know!